The Urban Studies Collection documents the development of the city in 20th and 21st century America, particularly in Greater Cincinnati, which serves as a case study area. By providing a topical focus for the gathering of materials related to urban life, the collection furthers research into the process of urban life and culture.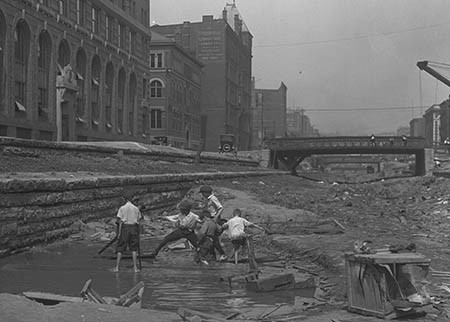 Collecting centers on politics, planning, housing, labor history, neighborhood change and activism, and the arts. In recent years, there has been an emphasis on the role of sports and leisure in the urban sphere, including the politics, economics and sociology of ballpark and arena construction, and the history and socio-cultural place of sport in American life.

Significant collections include the records of Alfred and Gilbert Bettman, the Contemporary Arts Center, the Better Housing League, the McNamara Brothers labor activists, the Cincinnati Council of the AFL/CIO, the Eugene Ruehlmann Papers, the Theodore Berry papers, Housing Opportunities Made Equal, the Cincinnati Park Board, the Cincinnati rapid transit records, and subject files on American sport and recreation.