Special collections relevant to the College-Conservatory of Music (CCM) are held in two libraries within the UC Libraries: 
CCM Library Special Collections (read in CCM Library, by appointment)

special collections of music scores or sound recordings
scrapbooks of CCM alumni
rare book resources
to access, contact: Head Librarian, Jenny Doctor, email: jenny.doctor@uc.edu
 

Archives & Rare Books Library resources (read in ARB Library, by appointment) 

archival collections of Cincinnati or CCM musicians
archival collections of CCM alumni
rare book resources

to access, phone: 513-556-1959, email: archives@ucmail.uc.edu
Special Collections Relevant to CCM
Some key collections relevant to CCM are listed below. Notable collections are followed by (*).
More special collections may be found through: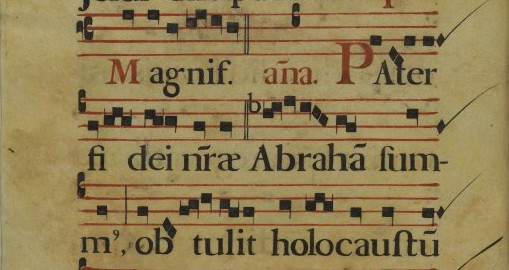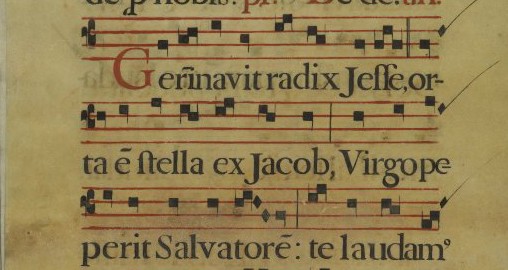 This this rare illuminated music manuscript is a 16th-century choirbook containing Gregorian chant handwrittenin neumatic notation on vellum pages with illuminated text capitals.
The Spanish Antiphoner is on display in the CCM Library in a case near the library's entrance.

The volume consists of 242 pp. of music, bound (approx. 16 by 23.6 inches).



The volume was donated to the CCM Library by the late Martin G. Dumler, a Cincinnati composer, artist and businessman.


This resource is fully digitized in high-resolution images -- see Spanish Antiphoner.

Digitization of the Spanish Antiphoner was made possible by a grant from the Tangeman Sacred Music Center with the assistance of Dr Matthew Peattie, CCM Assistant Professor of Musicology, and Mark Palkovic, former Head of the CCM Library.
This antiphonary, prepared by Johann Heinrich Betzolt for use in the parish church of Patschkau and dated 1682 by the copyist, contains polyphonic Marian antiphons. These bear witness to a late early-modern Catholic musical practice, known since the fifteenth century as the Salve Service, a devotional exercise practiced by confraternities and churches governed by religious orders, including in the conservative Polish city of Paczkow. This manuscript demonstrates a unique late form of Gregorian musical notation, perhaps not seen in other sources, in which the note heads are connected by fine curlicues.
The volume consists of 65 leaves of ms. music, bound (43 cm in length).
UC Libraries online catalog record; call number: ARB Rare Book Ovsz M2147 XVII P2
The volume was donated to the CCM Library by the VanMatre family.
For further details, see Daniel Neises, The State of the Liturgical Chant Tradition in the Late Seventeenth Century: a Manuscript Study of a Hymnal from Paczków, Poland. Master of Music Thesis, University of Cincinnati, 2003. (online catalog record; call number:  ARB C.U.152.M03 .N34)
Sincere thanks to Emeritus Professor Edward Nowacki for notes on this resource.
Music for brass instruments, primarily brass quintet, collected and maintained by the CCM brass faculty and Brass Studies Dept., and transferred to the CCM Library in June 2020.
CCM Brass Chamber Music Collection
location:CCM Library, special collections
Music scores in the CCM Brass Chamber Music Collection are fully cataloged and are searchable two ways:
For information about accessing these materials, contact Dr Jenny Doctor, Head Librarian, CCM Library.
Pietro Floridia's opera Paoletta was commissioned by the trustees of the 1910 Cincinnati Industrial Exposition, which aimed to commemorate the settlement of the Ohio Valley. The Board of Trustees, all prominent business leaders, wished to call attention not only to the industrial and commercial products of Cincinnati but also to its musical heritage by commissioning a grand opera for presentation during the exposition. This may have been the first instance in the United States that a municipality commissioned an operatic work for the celebration of an historical event.
    The Board selected as the composer Floridia, an Italian-American musician, pianist, and teacher who served on the faculty of the College of Music of Cincinnati after immigrating to the USA. He had been a successful composer of opera and symphonic works in Italy. Floridia chose Paul Jones, a Cincinnati artist and pageant director, to be the librettist. Jones used a sequence of episodes from his unpublished novel, The Sacred Mirror, for the libretto. For the male lead, they secured David Bispham, the foremost American-born vocalist of the time. Bernice de Pasquali, also American-born, sang the title role, Paoletta. The chorus of 140 members were all drawn from the May Festival Chorus. A corps de ballet of fifteen was imported from New York, and the orchestra consisted of 53 members of the Cincinnati Symphony Orchestra. Expenses were not hindered.
    On the evening of August 29, 1910, the première performance of Paoletta at Music Hall resulted in the enthusiastic applause of forty-eight curtain calls, acknowledging the members of the cast and the composer-conductor, Pietro Floridia. While the performance was good, the extraordinary number of curtain calls was also an indication of the pride of the local citizenry in the musical grounding of their city.
    The Exposition received national attention, since President William Howard Taft opened the spectacle and former President Theodore Roosevelt stopped by with his daughter, Alice, and son-in-law, Nicholas Longworth, to visit the exposition and attend a performance of the opera. Twenty-nine performances of Paoletta were given, before the final full performance took place at the close of the Exposition on September 24, 1910.
In 1958, the Cincinnati Ballet was chartered as the "Cincinnati Civic Ballet". The company held their first auditions in 1963, and the original troupe consisted of 41 dancers. Oleg Sabline served as the first artistic director, and John A. Spain was the first president of the Board of Trustees. The first performance took place at the University of Cincinnati's Wilson Auditorium in March 1964.
    In 1966, the ballet became more closely affiliated with University of Cincinnati (UC) when David McLain, Head of the Dance Division at UC's College-Conservatory of Music (CCM), became director of the Cincinnati Ballet Company. This connection with CCM allowed the ballet the use of CCM's facilities for classes and rehearsals and UC's Wilson Auditorium for performances. In 1969, Carmon De Leone became music director. Soon after, the company hired ten salaried dancers. During this time, the company gained national recognition for training dancers in the Lester Horton technique. After McLain's death, Hungarian dancer Ivan Nagy was named artistic director from 1986, and he recruited a number of experienced foreign dancers. During Nagy's tenure, the company's standard of performance was elevated. When Nagy left, Richard Collins became artistic director (1989-92), followed by Nigel Burgoine (1992-94) and Peter Anastos (1994-96).
    In 1994, the company opened a new facility on Central Parkway at Liberty Street that allowed dance studios, rehearsal space, a training school, and offices to be in the same location. In 1997, Victoria Morgan was named artistic director, one of the first women to lead an American ballet company. In 2008, she was appointed CEO, and Devon Carney became associate artistic director.
    In 2013, Cincinnati Ballet celebrated its 50th anniversary, in a decade marked by the company's expansive growth. In 2021, a multi-million fundraising campaign for the Cincinnati Ballet Margaret and Michael Valentine Center for Dance in Walnut Hills was completed, and this new, world-class Center for Dance opened, featuring nine studios and iconic architecture. The 2021-22 Season marked Morgan's 25th and final season with the company. Jodie Gates took up her position as artistic director of Cincinnati Ballet and its Otto M. Budig Academy in August 2022.
More information on the history of the Cincinnati Ballet is available at their website.
Cincinnati Ballet records
location: ARB Library    collection ID: US-14-05   ARB finding aid
This collection spans the history of the ballet company, along with earlier material on dance in the Cincinnati area. Included are: information on Cincinnati Ballet productions including programs, photographs, and production planning; biographical files of many former dancers; material relating to Cincinnati Ballet administration including fundraising, membership, rosters of trustees and officers, advertising and publicity.
dates: 1918-2013 (especially 1964-2012)
quantity: 41 linear feet 
location: ARB Library    collection ID: US-93-18   ARB finding aid
Collection of materials relating to the careers of David McLain and David Blackburn, especially their relationships with the Cincinnati Ballet Company and the University of Cincinnati College-Conservatory of Music. The collection includes photographs, scrapbooks, slides, films, programs and other printed material, scores and notes, and records of the Cincinnati Ballet Company.
    Arranged by material type, with series: Notebooks (1973-79), Photographs (1971-75), Printed material (1960-78), Sachs Award (1974), Slides of ballet performances, D.M. Dance Theater - Lindquist Proofs & Photographs (1969), Films (1961-71), Works (1962-67), Ballet scores, notes, printed material, Plans (1980), Slides (1968-73), Photographs, Photo Albums, Scrapbooks, Casting Sheets (1953-84), Scrapbooks (1955-82), Oversize scrapbooks (1971-75)
dates: 1955-1984
quantity: 24 linear feet (20 boxes)
The Music Teachers National Association (MTNA) was founded in 1876 by Theodore Presser and sixty-two colleagues in Delaware, Ohio. MTNA's mission is to advance the study and making of music and to support music teachers. It's programs include student competitions, a national composers' commissioning program, conferences, and a professional certification program. The organization is headquartered in Cincinnati.
MTNA records are held in ARB Library, in 4 collections:

location: ARB Library    collection ID: US-21-01   ARB finding aid
This collection consists of records of the Music Teachers National Association (MTNA), including materials related to the American Classical Music Hall of Fame and issues of American Music Teachers Magazine.
dates: 1972-2020
quantity: 7.5 linear feet (6 boxes)
location: ARB Library    collection ID: US-92-10   ARB finding aid
This collection includes books of MTNA proceedings, convention records, handbooks, and publications.
dates: 1902-1990
quantity: 7.5 linear feet (6 boxes)
location: ARB Library    collection ID: US-15-05   ARB finding aid
This collection contains records and photographs of the MTNA, including meeting minutes and memos, materials from annual national conventions, student composition contest applications, annual reports, and misc. materials such as guides on management and committees, an undated map, and correspondence.
dates: 1963-2006
quantity: 6.75 linear feet (6 boxes)
location: ARB Library    collection ID: US-14-07   ARB finding aid
This collection includes books of MTNA publications, conference materials, compositions, and financial documents.
dates: 2005-2015
quantity: 3 linear feet