The University of Cincinnati Libraries offer many ways to create and access digital resources in a variety of spaces across campus.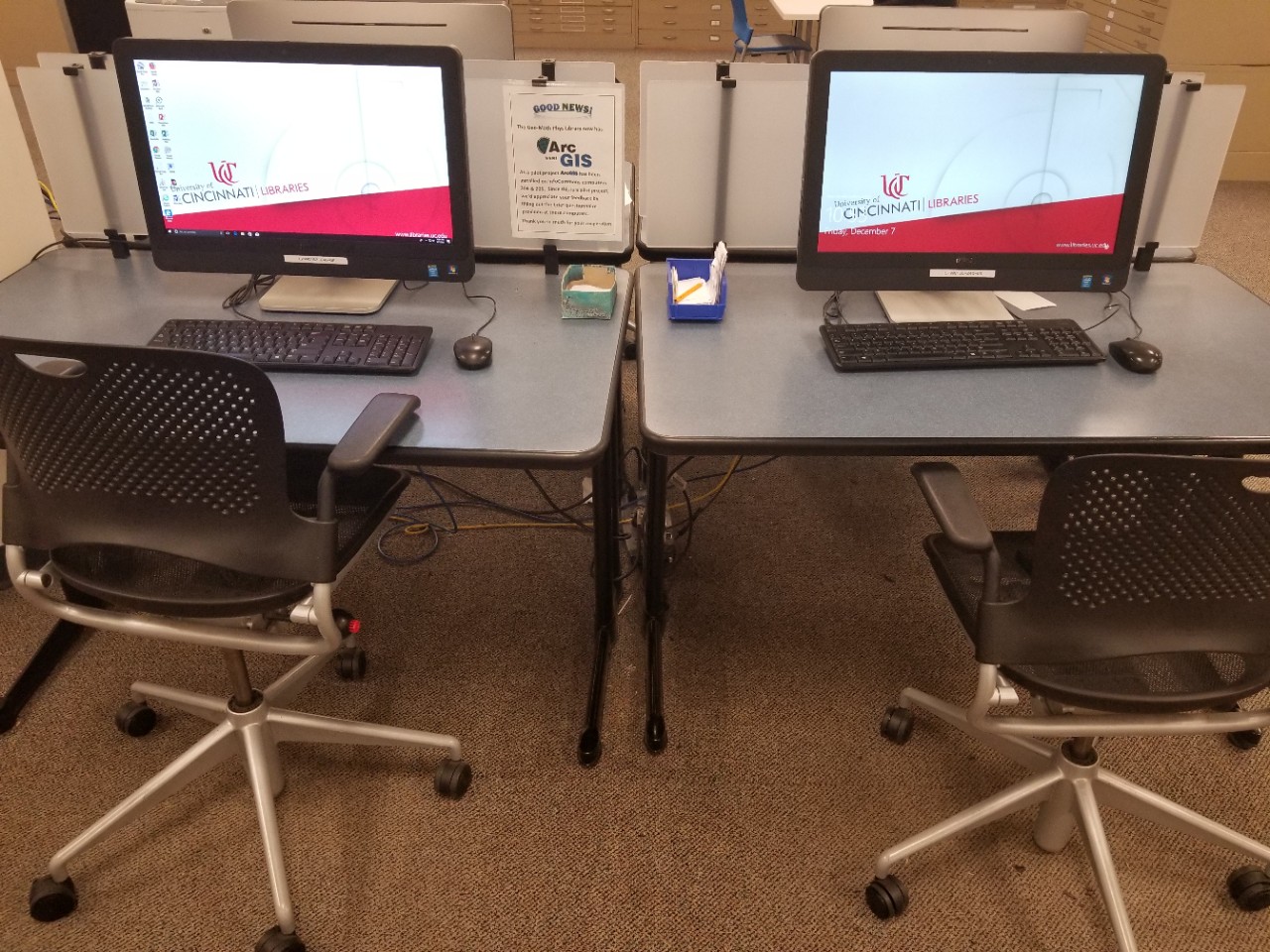 The Visualization Laboratory (Viz Lab) provides a suite of research services focused on data science and visualization. Furthermore, the Viz Lab is a space to encourage interactive teaching and collaborative research. The Viz Lab is located within the Geology-Mathematics-Physics (GMP) Library, 240 Braunstein Hall, and offers consultations by appointment.
Email : richard.johansen@uc.edu
Phone: 513-558-0381
Office: 240B Braunstein Hall
Consultation Hours:
Data & GIS Collab
Geo-Math-Phys Library (Braunstein Hall)
The Collab features:
2 high-end workstations with large dual monitors (36" each)
Specialized software - ARCGIS, MATLAB & more to come
Conslutants to assist with GIS and data analysis

Work spaces for project collaboration
Whiteboard for creative thinking
Contact AskGIS@uc.edu to reserve the Collab or to schedule a consultation
More information on the GIS guide: https://guides.libraries.uc.edu/gmp-research-labs
Informatics Lab at the Health Sciences Library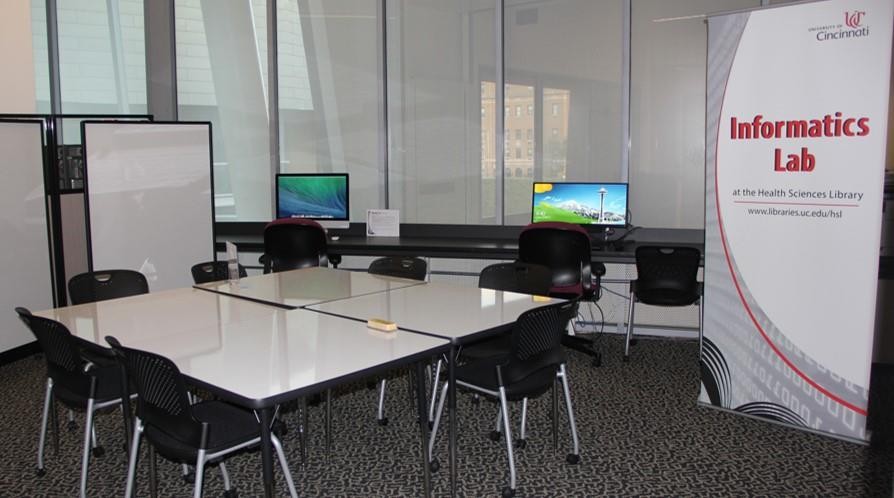 A Collaborative Space for Innovation at the Health Sciences Library
The Informatics Lab is designed for innovative and collaborative hands-on learning experiences. It is a place for UC researchers and graduate students to connect, collaborate, and receive research support services.
Windows 7: zSpace AR/Technology, ArcGIS, Office, Skype, SPSS, SAS, CLC Main Workbench, R, RStudio, 7Zip, Notepad++, Python+scipy+NumPy, MySQL Workbench, Cytoscape, Adobe Creative Cloud, QGIS, EpiInfo, GeoDA, SatScan, Citrix

OSX:Office, Skype, SPSS, Adobe Creative Cloud, R, RStudio Desktop, Cytoscape, TextMate, The Unarchiver, Python+scipy+NumPy IGV, MySQL Workbench, QGIS, GeoDA, SatScan, XCODE, WEPA Print App

Equipment: 2 iMacs,2 PCs,1 80 inch monitor for wireless presentation, web conferencing, and content sharing,4 whiteboard tables, 2 standing whiteboards, 1 wall-mounted white board
Reservation/Use
To reserve this space, fill out the form at http://med.uc.edu/comlibraries/informatics-lab-form/. With any other questions please contact us at informaticslab@uc.edu.

Informatics Lab is open to the UC students, faculty, and staff. The highest priority is given to UC AHC faculty, staff, and graduate students.
Due to the unique and specialized equipment available in the Informatics Lab, recurring and repetitive reservations are limited so it may serve a wide range of groups within the AHC.
A minimum group of three individuals is required to reserve the entire room. Individuals can reserve the computers.
Faculty, staff, or graduate students may reserve the room for two hours at a time. It is possible to reserve two, two-hour timeslots for longer projects or meetings.
If this room is not used within 20 minutes of the scheduled reservation start-time, it is considered vacant and will be available to others on a first-come, first-serve basis.
Hours:   Mon.-Fri. 9 AM - 5 PM
Food and Drink:   Items for personal consumption (e.g. drinks or snacks) are allowed, but formal, catered events are not permitted.
Contact us:  informaticslab@uc.edu