If you use Google Scholar to find scholarly publications, many full-text articles and other resources may be available to you at no charge because they are licensed by UC Libraries. This is how you can get links to UC-licensed resources to appear in your search results:
Go to Google Scholar
Sign in to your account (or create one if needed)
Click on the icon in the upper left-hand corner and select "Settings"
Click on "Library Links"
In "Show library access links for (choose up to five libraries)" type in "University of Cincinnati", click the search icon
Click the box to the left of ""The University of Cincinnati – Find Full-Text at UC," then click "Save"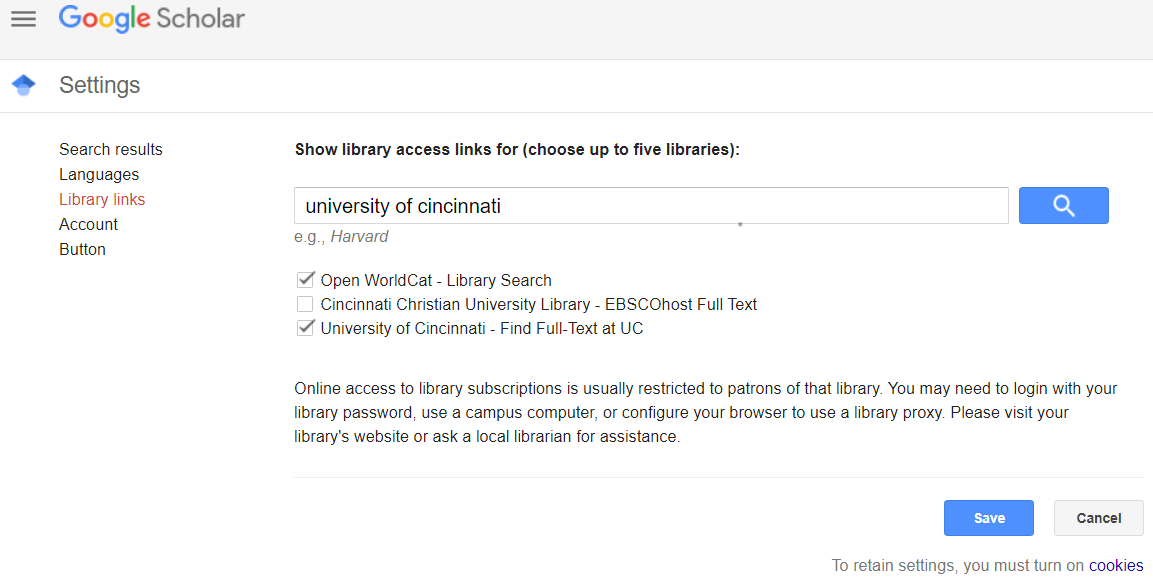 *Note that not all articles found through Google Scholar will be available at University of Cincinnati Libraries. For more comprehensive coverage of library resources use the search options at https://libraries.uc.edu/.
For complex or in-depth searching of scholarly content we recommend that you search individual databases.
 EZproxy Bookmarklet (Beta Testing)
You can create an EZproxy bookmarklet to route a web page through the proxy server; once logged in, UC Libraries subscription content will display.
Create a desktop or laptop web browser bookmarklet:
Make sure the bookmarks toolbar is enabled.
Drag the link below onto your browser's bookmarks toolbar:
Navigate to a licensed electronic resource (e.g., JSTOR

).

Click on the "UC Libraries Proxy bookmarklet  in your browser's toolbar, which will reload the page via EZproxy, requesting you to login.