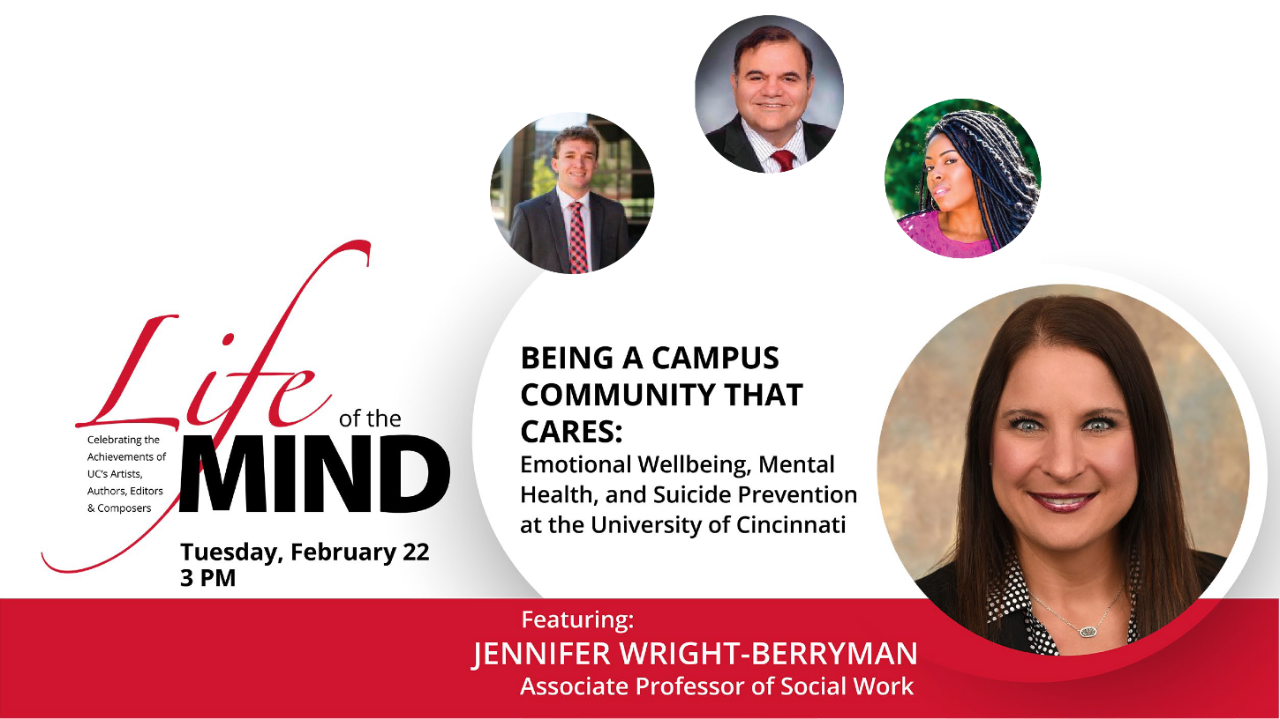 Calling all UC Artists, Authors, Editors & Composers!
The annual Life of the Mind, interdisciplinary conversations with University of Cincinnati faculty, is tentatively scheduled for Tuesday, Feb. 22, 2022. Once again, the event will celebrate the published or performed creative and scholarly works of UC's artists, authors, editors & composers with an exhibit and bibliography. To include creative and scholarly works, UC faculty and staff members are invited to self-submit via an online form. Include only those submitted works performed or published between January 1, 2020 and June 20, 2021. Submissions are limited to three per category per artist, author, editor or composer. Categories may include: books, book chapters, journal articles, editing, artwork, photography, plays, musical scores, CDs or DVDs, and more.
Contact melissa.norris@uc.edu with any questions.
Video link: https://www.youtube.com/embed/vGBOHyZaX5o?rel=0
Life of the Mind, interdisciplinary conversations with UC faculty, was last held Tuesday, Sept. 22 with a lecture by John Lynch, professor of communication in the College of Arts and Sciences, who spoke on "Remembering When Medicine Went Wrong: Lessons for Medical Communication Today."
Following Dr. Lynch's remarks, a panel of three responded to the lecture.
Charles R. Doarn, professor, environmental and public health sciences; program director, MPH; director of telemedicine
Renee Mahaffey Harris, president and CEO, The Center for Closing the Health Gap
Michelle McGowan, research assoc. professor in the Ethics Center and Division of General and Community Pediatrics at Cincinnati Children's Hospital Medical Center & College of Medicine; graduate program director, Department of Women's, Gender, and Sexuality Studies, College of Arts and Sciences
The Life of the Mind lecture series has merged with the former Authors, Editors & Composers to create one event that  celebrates the achievements of UC's artists, authors, editors and composers.
A bibliography of the submitted creative and scholarly works is available online where an accessible (screen reader version) of the bibliography can be downloaded as a PDF.
The mission of Life of the Mind is to celebrate UC research, scholarship and creative output and to foster the free and open exchange of ideas and discourse.

It is organized by UC Libraries, Faculty Senate and the Faculty Enrichment Center, and is sponsored by the Office of the Executive Vice President for Academic Affairs and Provost. Life of the Mind supports the university's Research2030 initiative, which focuses on two key objectives: Enhancing UC's national reputation and emphasizing the impact of UC's research enterprise. The Life of the Mind lecture creates a platform to exchange interdisciplinary research and foster intellectual conversation. The artists, authors, editors & composers exhibit and bibliography promotes faculty and staff research and creative outcomes.